LITTLE PLEASURES CREATE GREAT MOMENTS
RELAX YOUR MIND, BODY AND SOUL
When you enter one of our large float suites, you will literally float, totally weightless and cocooned  in a solution of warm Epsom salt. You will immediately feel stress melt away. In just 15 minutes, you will start to experience the mental and physical benefits of Epsom salt treatments. Our Vichy showers compliment the Epsom salt float experience found nowhere else in Canada. You can get our Gift Cards and also check our Specials page to avail discounts on our services. You can find us in Kitchener, Ontario just off Highway 401 at exit 275, sixty minutes from Toronto and forty five minutes from London.  We are conveniently located just minutes from Guelph, Waterloo, and Cambridge, Ontario. Call with any questions: 519-893-5391.
LUXURY, QUALITY & COMFORT
Spa Services
At Azure Aqua Spa, we provide the best spa experience with top notch service and best spa treatments in a relaxing atmosphere. Azure Aqua Spa is the perfect destination for a family occasion, Mom's night out, romantic occasions, private parties and corporate retreats.
Cinema Float Suites
Come and relax in one of the three float suites each equipped with the  a 7'×7′ float pool, filled with 1,500 pounds of medical grade USP Epsom salt.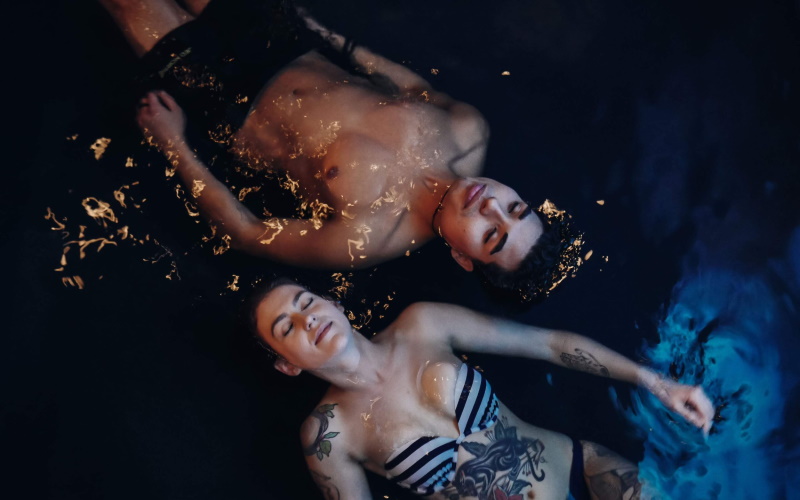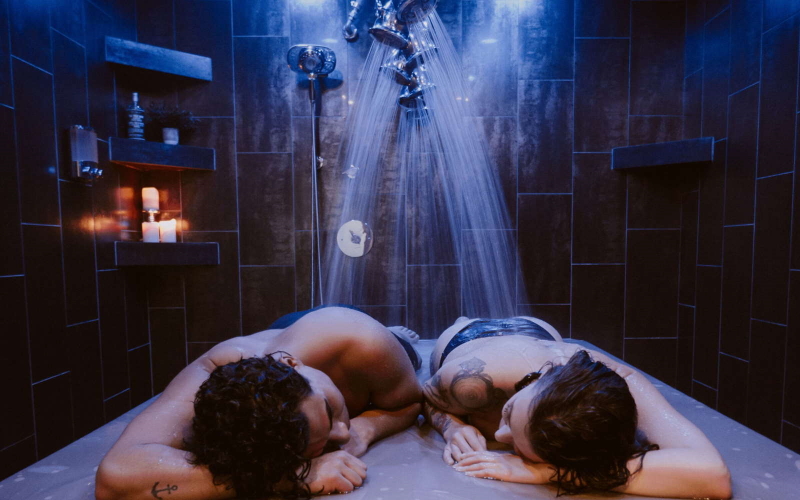 Vichy Shower Treatment
Our unique Vichy Shower or Human Carwash is a horizontal shower with seven powerful jets, cascading 50 litres per minute of warm water over your entire body!
DURING YOUR TREATMENT
Bathrobes
Slippers
Shampoo, body wash and conditioner
Earplugs
PRE/POST-FLOAT
Toiletries and body products
Showers in each Float Suite
Private change rooms
We know how important health and cleanliness are to our clients. Our premium, state of the art Float Suites are constructed for ease of sanitation and hygiene. Each float pool is filtered continually between floats and is processed through 1 micron filters. Overnight, all pool filtration systems are operating at full capacity to keep the Epsom solution in pristine condition. Our pools are heated to 93.5-96 F which is an inhospitable environment to pathogens. High water alkalinity provides complementary protection against viruses and bacteria.  All public surfaces are sanitized with disinfectants after each use. Being monitored by Region of Waterloo Public Health, our operations are of a higher standard than other businesses. 
Our Float Suites and Vichy Shower treatment rooms are separate from the check-in and waiting areas. All rooms are completely private and each float suite has its own shower that you can use before and after your session. Bathrobes, slippers and fresh towels are provided within each room. The entire room and Float Suite is yours to enjoy during your entire session. For safety reasons, each float suite is equipped with an assistance call button at pool level that you can push for immediate assistance from our technician. We like to tailor each session to our individual clients so you can customize your experience by selecting your choice of sound as well as video to play on the Cinema Wall. 
A little
Treat Yourself
At Azure Aqua Spa, we believe that everyone has wellness within them, and it is our passion to guide every guest to their optimal state of well-being. We know that wellness starts from within the body and we deliver authentic and results-oriented Vichy Spa treatments, relaxing massage therapy, cinema float suites and exclusive Skin Care treatments. Relax and unwind your mind body and soul. We are the best spa in Kitchner-Waterloo-Cambridge region.