Azure Aqua Spa
Premium Vichy Shower
Vichy shower is a hydrotherapy treatment that invigorates the entire body by the gentle massaging of cascading water. The Vichy shower has multiple shower heads attached to a horizontal bar which is suspended above your body.
When all jets are on, there is about 50 liters of water per minute flowing over the body. Vichy showers are incredibly relaxing and refreshing. The water massage is particularly effective following a body scrub or wrap but can be a stand-alone treatment. To reach a state of complete relaxation and make clients comfortable, we adjust the water temperature to your comfort level and we dim the lighting to your liking.
Our Vichy Treatment options gives you the flexibility to choose the most popular of our Premium Body Treatments while combining them with our 60 minute float.
*Gratuities not included / Performed by medical aestheticians / Insurance is not accepted
Taxes apply / Credit expires one year after purchase / For relaxation purposes only
The Iconic Float & Vichy Combo
This wonderful hour and a half treatment will be a spa experience like no other. Come in and rest completely as you float for one hour. Afterward, bask in the warm rains of the Vichy shower.
Ask your Aesthetician for a recommendation of fragrant oil applications as they gently scrub and exfoliate your entire body with Hawaiian Holiday, Tahiti Bliss, Riesling Pear, Champagne Mimosa, Strawberry Rose aromatherapy essential oils or choose masculine aromas of Cuban Rum & Cigar or Oktoberfest Bier Scrub.
FIRST
IN ONTARIO SPAS
MOST REQUESTED
* PROFOUND HEALING
EFFECTS * HOT STONE
Scandinavian Azure Signature Body Treatment
60 Mins
An unforgettable treatment that has tremendous healing effect with a special accessory sauna whisks, a bunch of young birch, eucalyptus or oak twigs. Our whisks are handmade by professionals with years of experience from Scandinavia and Siberia. It promotes better blood circulation, alleviates back and joint pain and improves mood. This is recommended for people with asthma, rhinitis, chronic infections and migraines.
This exclusive treatment also includes hot stone application, salt and honey scrub for better cleansing and renewal of the skin. Final application of European made orange balm, specially designed for whisk treatments is a remarkable bonus to your skin!
Please note, we do not recommend this treatment if you are allergic to honey or eucalyptus. This treatment is available until the supplies last.
NATURAL SEA PRODUCTS * HOT STONE
Thalassotherapy
60 Mins
Seaweed remarkable capacity to concentrate organic minerals provide us with a tremendous source of health and well being. In reality, thalassotherapy is a bit like driving to the gas pump where you fill up with minerals and nutrients. This revitalizing treatment has been widely used in France for the past two centuries. The healing effect of seaweed is so powerful that the benefit of 6 treatments can last from 6 to 8 months. We start with a hot stone application to make you feel relaxed and comfortable, then we thoroughly exfoliate your skin and apply organic seaweed gel.
After we remove the seaweed gel, we will apply a special body lotion to protect your skin.
Active ingredients in this product is also effective against problems linked to cellulite, water retention, localized fat deposits and dry, damaged skin.
FUN TREATMENT IN A CLOUD OF AROMATIC FOAM HOT STONE
Aromatic Dream Treatment
60 Mins
This treatment will leave you smelling magnificent! The aromatic fragrance moistens your skin and provides an all day or night scent as a reminder of your royal treatment. This treatment begins as many of our other offerings with a hot basal stone application, followed by a whole body exfoliation and then covered by a cloud of warm aromatic foam. Cascading Vichy water will then flush away the foam, after which we apply aromatic body smoother over your entire body.
SOOTHING, TRANQUIL, SKIN REGIMEN
Lavender Rain Treatment
45 Mins
Lavender and eucalyptus exfoliation awakens the body, and warm rinse under our Vichy shower soothes it.
CREATES SERENITY AND INTIMACY
Sensual Couple Treatment
45 Mins
Luxurious floral blend helps to build intimacy with deep floral aphrodisiac oils. Skin becomes soft like butter and tension melts away as your body is polished and massaged with body butter exfoliant, then wrapped in a warm blanket to ensure total absorption of all nutrients. A final rinse of cascading Vichy waters will reveal newer, fresher, more perfect skin.
Final application of aromatherapeutic cream creates a wonderful experience for both.
CLEANSES THE SKIN CREATES MENTAL CLARITY GREAT GIFT FOR THE MEN IN YOUR LIFE
Adonis Masculine Treatment
45 Mins
Take advantage of the emotional, physical and therapeutic benefits of this wonderful treatment which possesses earthy, spicy and masculine aromas!
Includes body exfoliation, wrap, scalp massage and a bamboo whisk back massage. A bamboo whisk is a bundle of long, thin bamboo sticks. Although it is called a whisk, it is not used to beat the body, it is used as an accessory for soft, relaxing massage! A bamboo whisk is elastic and flexible and therefore creates a more effective muscle relaxation technique.
Aquamoon
1 hour Float
30 minute massage
30 minutes scrub with Vichy shower
Mom To Be
1 hour Float
25 minutes scalp and foot massage
GRATUITIES ARE NOT INCLUDED
Benefits
Learn how a Vichy shower can help you. There are countless reasons why you should have a Vichy shower.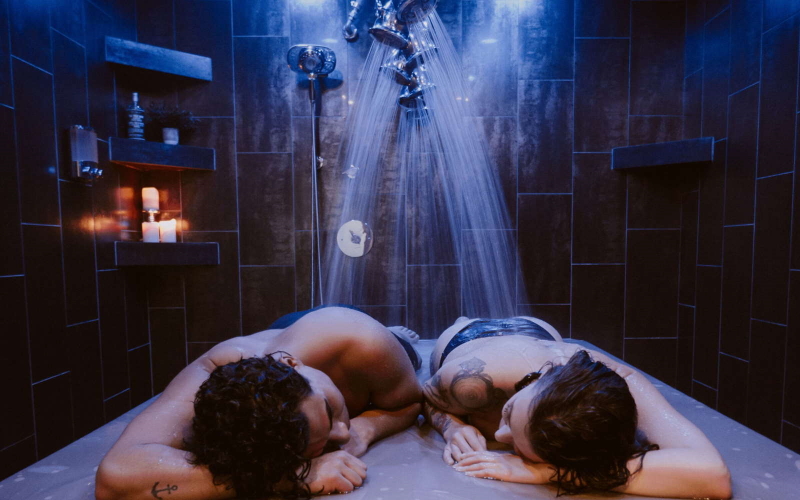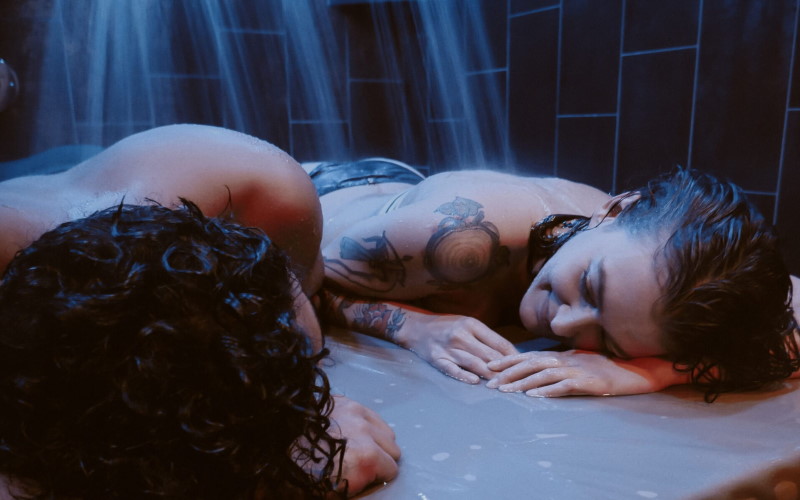 Contraindications
If you have concerns about whether or not to try a Vichy shower treatment, please read the contraindications here.
Preparations
If you are new to Vichy treatments, you may be a little unsure about what to expect & how to prepare. Learn more here.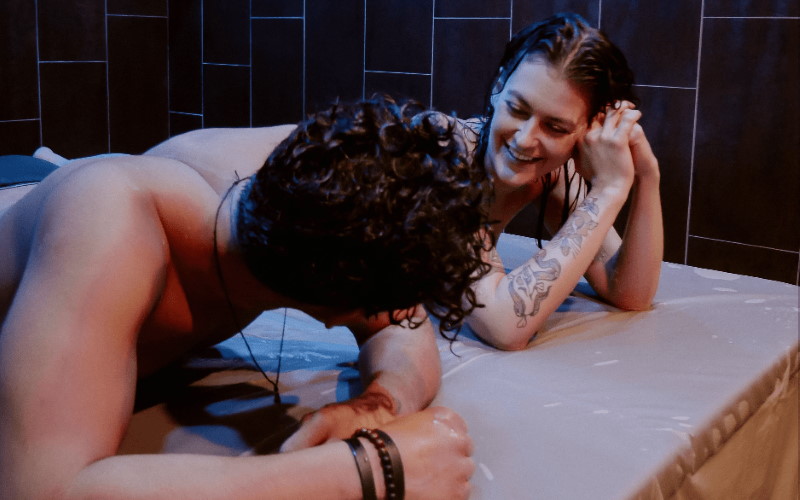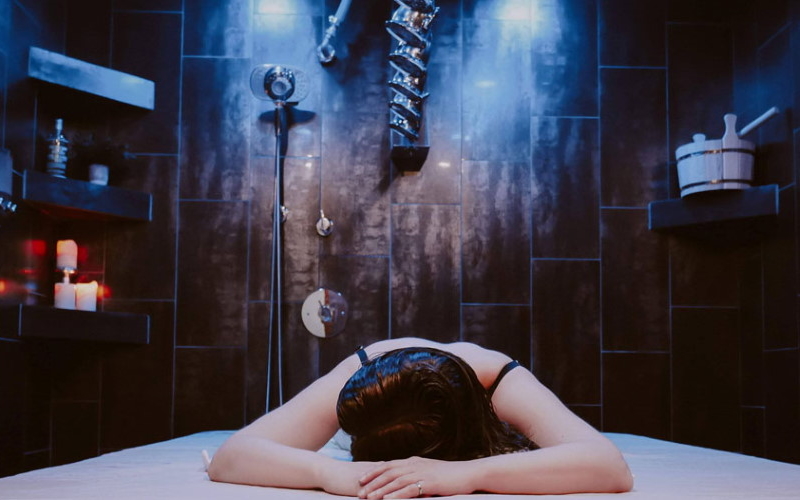 Instructions
Learn more about how to prepare for vichy shower treatment at Azure Aqua Spa.